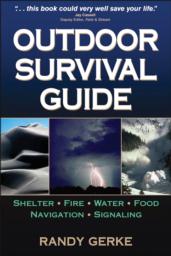 click to enlargeIf you'd like to keep up with the latest news and resources offered from this site, sign up for the free Outdoor Survival Guide Newsletter. The newsletter will be published periodically and will present seasonal survival tips, survival stories, and survival related news. This project is just beginning and we hope to make it a valuable resource for people who spend time in challenging environments for work or recreation. If you have ideas or suggestions for topics you'd like to see covered in the newsletter, please feel free to share your ideas. Send an email to: news@theoutdoorsurvivalguide.com
The Outdoor Survival Guide Newsletter is free and can be sent directly to your email address. Sign up here. Registration only requires your name and email address, no password, no survey, nothing to buy, just valuable information. Register now.
This private list is used only for the purpose of sending our newsletter and keeping you up to date with information about this site. It is not sold or made available to others for any other purpose.