Montrose man's book 'could very well save your life'
By DAVE BUCHANAN/The Grand Junction Daily Sentinel
Wednesday, November 04, 2009
MONTROSE, CO — Randy Gerke figures his early mistakes taught him well.
"I guess I've made every mistake in this book," said Gerke recently, the bright November sun highlighting a copy of his just-published "Outdoor Survival Guide. It's his first foray into writing about what he knows best, how to survive when Mother Nature has tipped the odds against you.
"This book is full of how to avoid the things I've learned, sometimes the hard way," said Gerke with a laugh, his close-cropped salt-and-pepper beard showing more salt than pepper and his steel-blue eyes bright behind wire-rimmed glasses. "I've had some pretty interesting experiences in my life and a lot of my teaching is based on those experiences."
Gerke, 55, and his vivacious wife Kay own and operate Enviro-Tech International, an all-around outdoor survival school based in Montrose with such diverse clients as the Delta Montrose Electric Association, area schools, the U.S. Navy and Air Force and the U.S. Border Patrol.
What started more than 30 years ago as a venture into teaching primitive survival skills such as emergency fire starting, building shelters, trapping and cooking your dinner and tanning the hides, has evolved into a diverse offering of courses devoted to teaching backcountry survival and rescue skills to anyone who ventures into the out-of-doors, whether on foot, skis, snowmobile or even from the accepted safety of a vehicle.
The book came about after the publisher, Human Kinetics, heard of Gerke's expertise and approached him.
"I hadn't really thought about writing a book and if I had known then what I do now, I might not have done it," said Gerke, not completely joking. "I figure it took me more than 1,500 hours over two and a half years."
Lucky for us Gerke persisted. The result is a 248 page treasure chest of information, one described by Jay Cassel, deputy editor of Field & Stream magazine, as something that "could very well save your life."
Gerke's survival school (www.etisurvival.com) initially including desert training in the nearby canyon country but now concentrates on winter survival. And with winter on its way, it's not too late to pick up that extra-special Christmas present for anyone who spends time outdoors.
Gerke said hunters, anglers, power company linemen and remote radio tower technicians, four-wheelers, ATV owners, snowmobilers, and even the casual traveler headed out to ski for a day on Grand Mesa should have the knowledge, skills and equipment to survive should something wayward happen.
The book's 11 chapters (all well-illustrated by Kay Gerke) include such topics as Shelter, Fire, Water, Food from Plants, Navigating, signaling, and Injuries and Illnesses.
Nothing is so complicated adults and kids alike can't learn it; likewise, nothing relies on the current flood of high-tech, battery-operated survival tools.
"You can't trade traditional, low-tech skills for high-tech equipment," cautioned Gerke. "People tend to be lulled into a false sense of security because of technology. Your GPS is great until the batteries wear out or you drop it in the water, and then you had better know how to use a map and compass."
Even the best outdoorsmen need refresher courses, said Gerke, who also teaches Wilderness First Responder and Wilderness Emergency Medical Technician courses.
During a training school for U.S. Border Patrol officers, "we took them up on Grand Mesa, where it snowed five feet on us," said Kay Gerke, laughing at the memory. "It turned out these guys were great with high-tech GPS but had forgotten some of the basic skills needed to survive."
Gerke's writing is around-the-campfire conversational.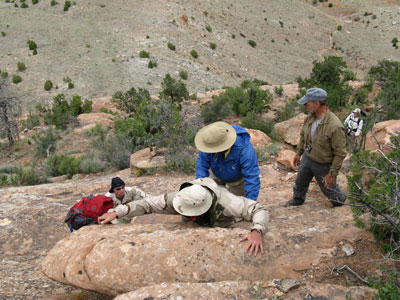 "This isn't a primitive skills manual because I've included a wide range of the most-important survival skills," Gerke said. "It's also something you can read with the family that will keep the kids entertained and educated about personal survival skills."
Gerke believes everyone already possess the most-essential survival tool, it's just a matter of remembering to use it.
"I believe your mind is the most useful survival tool you have," said Gerke, adding a knife or multi-tool comes in a close second. "Taking the time to assess your situation, figure out your options and plan your next move can be the difference between surviving and not."
"Outdoor Survival Guide" (Human Kinetics, Champaign, Ill., $17.95, paperback) is available at most major booksellers as well as online at www.the outdoorsurvivalguide.com.
Email DAVE BUCHANAN